Regular readers will know that I've
raved before
about James Everington's collection of strange and scary fiction, The Other Room (Amazon
US
|
UK
), one of the most promising debuts I've read in a long, long time.
James has
just released a new novella
, The Shelter (Amazon
US
|
UK
,
Smashwords
), a story of four friends in a hazy, lazy summer at the end of the Eighties. They go in search of a rumoured WWII air raid shelter, and when they find it...well, you'll have to read the book to find out.
It's also got an excellent cover that is disturbing and makes me not want to look at it for too long.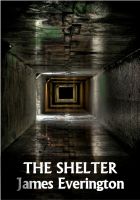 I've just grabbed a copy from Amazon, and I'm really looking forward to it. You'll find a review here soonish. (It pre-dates The Shelter, but you can also read an interview I did with James
here
).